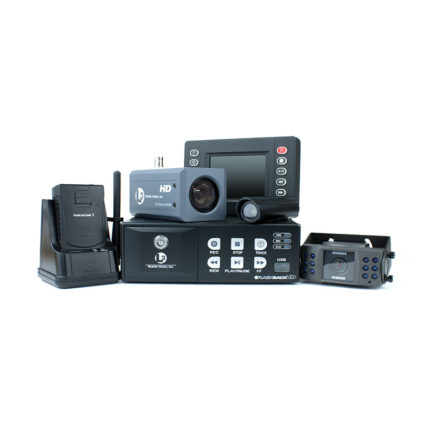 HD Digital In-Car Video Recorder
Product Description
Our Flashback HD system provides the ultimate video capture solution. The new streamlined camera is highlighted with a 10x optical plus 12x digital zoom. This allows you to capture images at greater distances while our high definition video technology provides for the maximum level of image detail.
This revolutionary camera can be rotated 360 degrees, allowing video to be captured inside or out of the vehicle. Equipped with our exclusive Nite-Watch technology, the camera intuitively highlights objects in shadowed areas and prevents glare from headlights providing the ultimate experience in high definition.
Download Product Brochure
Product Features
High-Definition Camera And Video
Secure Digital Capacity (SDHC) Card Storage
No Moving Parts
High Speed WiFi File Transfer
Hands-Free Operation
HD Camera
Equipped with 720p30 HD resolution, a 70 degree field of view, fixed focal length, a 3x digital zoom, and can be rotated 360 degrees for multiple viewing angles.
DVR Functionality
Capability to store video in HD or D1 to keep file sizes down and reduce the size of servers needed to store video.
Ease Of Compatibility
FlashbackHD seamlessly integrates with existing Mobile-Vision back office software and is compatible with all Flashback products.
GPS Module Included
Allows for searchability by location; sets system clock and synchronizes all department vehicles to actual/real time.
TRACE Feature
Enables fast and accurate tracking of location(s) for evidence discarded during a chase sequence with new MAP IT! pinpointing capability from evidence management solution in the agency.
File Transfer
Supports 802.11 (a/b/g/n), providing faster uploads of video and faster downloads of software updates. Removable SD Card available.
SDHC Memory Card
Available in 8GB, 16GB, 32GB and 64GB storage for
8-64 hours of D1 video.
Digital Video Authentication
Encrypted hash on file using DVRs 1024 bit key for integrity and authentication.
Wireless Automatic Firmware Updates
(DEP and DET Users Only) eliminate costly manual upgrades and ensure traceablity of all your updates.
DVR Functionality
Supports full-frame pre-event recording for up to 60 seconds. It can simultaneously play and record from the same file while utilizing highly available SD Card for video storage.
External Triggers
Turns on with lights, sirens, a configurable speed trigger or VLP2 wireless microphone.
Battery Friendly
Requires only 1.5 amps and is equipped with an intelligent auto-off feature.
User Identification
Simple and easy to use USB key log-in feature.
In-Vehicle Incident Classification
The ability to designate an incident (DUI, Reckless, Domestic, etc.) immediately after the incident is concluded. This classification (or priority level) is passed to the management solution in the agency where definable operational rules allow for the automated processing and categorization of specific classes of incidents.