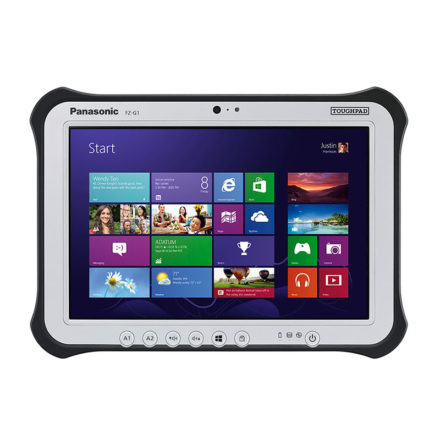 Fully Rugged Tablet
Product Description
More Power for Your Toughest Applications:
The 10.1-inch FZ-G1 pairs the field-tested, fully-rugged framework of the original with the latest, fourth-generation Intel® Core™ i5 vPro™ and host of new features, like a glove-sensitive touch screen; an optional 20-hour, long –life, hot-swappable battery; integrated RFID; and much more. If you want a Windows®-ready, rugged tablet look no further.
Rugged, Outdoor Excellence:
Engineered to withstand the hard knocks, drops and spills of real life on the road, the FZ-G1 is built to operate flawlessly in every environment — from intense heat and sunlight, to pouring rain and freezing temperatures. Running Windows 8.1, the FZ-G1 integrates seamlessly and securely with enterprise platforms.
Download Product Brochure
Gallery
Product Features
Software
Windows 10 Pro 64-bit
CPU
Intel® Core™ i5-6300U vPro™ Processor
Durability
MIL-STD-810G certified, 4-foot drop and all-weather IP65 dust and water resistant design
Display
10.1-inch, HD daylight-readable, ten-point gloved multi touch screen + digitizer
Ports & Expansion
USB 3.0 + HDMI ports + multiple optional configurations, including a choice of bridge battery or SmarCard reader; and a choice of barcode, GPS, Serial, Ethernet, MicroSD, or 2nd USB port
Wireless
Wi-Fi, Bluetooth® and Optional Dedicated GPS or 4G LTE Multi Carrier Mobile Broadband with satellite GPS, antenna pass-through
Weight
2.4lbs (standard battery); 3.0lbs (optional long life battery).
Power
10 hours (20 with optional long life battery)
Warranty
3-year warranty with business-class support