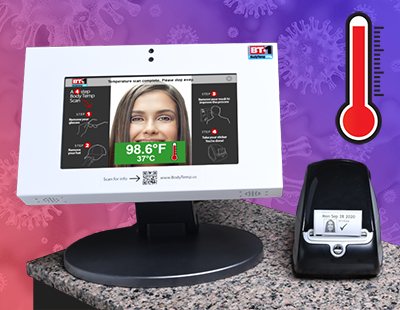 Automatic and Touchless Body Temperature Screening Device
Product Description
The BT-1 is an accurate and affordable non-contact body temperature screening device suitable for offices and office buildings, restaurants, stores, meeting venues, and many other spaces where people come in close contact. The user simply needs to align their face and eyes to the scanner, and the BT-1 does the rest.
Download Product Brochure
Product Features
The unit can be configured as a stand-alone unit, or to utilize advanced features such as connecting to Wi-Fi or building network. This allows the system to automatically send an email to one or more administrators when a high temperature is detected.
With the included printer, a sticker is printed with the user's photo and date printed as evidence of normal temperature.
---
SIMPLE USER INTERFACE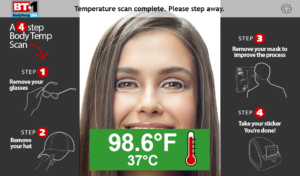 The user is instructed by voice prompts for proper alignment and distance from the screen using eye icons on the user interface.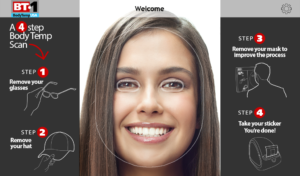 When temperature scan is complete, if within the pre-set limits, the unit announces "Normal Temperature" and displays the temperature onscreen.
---

---
Frequently Asked Questions
Is the BT-1 FDA compliant?
The FDA has removed 510 (k) requirements, FDA compliancy, for digital thermometers. The unit is not intended to diagnose, treat, cure, or prevent any disease.
How long does it take to measure a person's temperature?
10 seconds for measurement; 15 seconds for measurement and printed sticker.
Can it be cleaned and disinfected?
Yes. The surround can be cleaned with common disinfectants. The screen can be cleaned with monitor cleaning fluid and microfiber cloth.
Can it be used outdoors?
Using outside can be a problem because direct sunlight affects performance. Therefore, we recommend indoor installation only.
Does it have notification capability?
Yes. The BT-1 can be configured to send an email when a reading is complete.
Can I connect it to my network?
Yes, the BT-1 does connect to a network.
Does the unit store temperatures and photos?
The BT-1 does not store any personal information.
Can I set the temperature threshold?
Yes, you may input a custom temperature fever threshold.
Does it come with a mount?
The BT-1 comes with a tabletop mount. The mounting holes on the back of the BT-1 are compatible with most standard 4-hole monitor mounts, if an alternative stand or wall mount is desired.