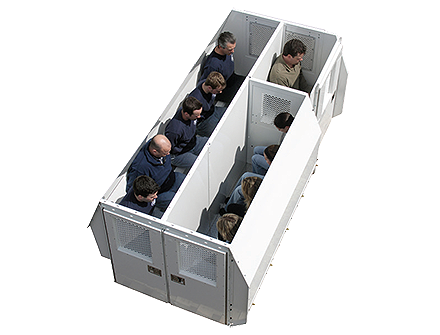 SECURE, HEAVY-DUTY INMATE TRANSPORT
Product Description
Havis builds outstanding prisoner transport systems for standard and extended Ford, Chevrolet, Ram, Nissan NV and Sprinter vans. We offer single, double and triple compartment inserts, which allow you to securely transport up to 12 passengers. Seat belts, seat dividers, and grab straps are included for each seat location. Complete your solution with our wide array of accessories.
Download Product Brochure
Gallery
Product Features
Unsurpassed Quality and Durability
Standard Safety Features for Officers & Inmates
Seat belts, seat dividers, and grab straps included for each seat location
Heavy-duty "Slam Latch" doors
Emergency exit hatch for each compartment
Non-slip seat tops and aluminum floor
No sharp edges or protruding hardware
White powder coat finish is easy to clean, durable and improves visibility in the insert
Easy Installation Options for Your Solution
If you have your own installation facility, you can follow our step-by-step instructions to assemble the insert yourself.
You can also contact a Havis reseller to install your prisoner transport insert.
Inserts are shipped partially assembled.
Standard Features of Prisoner Transport Insert
All aluminum construction
White powder coat finish (bulkheads, doors & hatches)
Up to 3 prisoner compartments
Transport capacity for up to 12 prisoners
LED dome lights in prisoner area
10″ x 48″ non-slip rear step
10″ x 30″ non-slip side out step (for side compartment units)
Transferring Your Insert in the Future
Many times, your prisoner transport insert will outlast the service life of your van.
Since our inserts are bolted, not welded, into your van, you can easily transfer your insert into a new compatible van.
Available Configurations
Single Compartment
Available for 80″, 100″ & 120″ inserts; Single rear entry door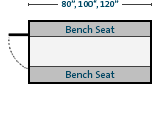 Double Compartment
Available for 80″, 100″ & 120″ inserts; Dual rear entry door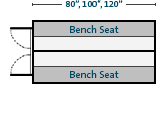 Triple Compartment
Available for 100″ & 120″ inserts; Dual rear & single side entry doors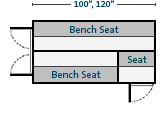 Compatible Transport Vans
2007-2016 Chevrolet Express G-Series 2500/3500 (Standard and Extended Length)
2014-2016 Ram ProMaster (Standard and Long Length/Low and High Roof)
2007-2016 Dodge/Freightliner/Mercedes Sprinter (Standard Length/High Roof)
1997-2014 Ford E-Series (Standard and Extended Length)
2015-2016 Ford Transit (Full Size — Standard and Long Length/Low and Medium Roof)
2012-2016 Nissan NV3500HD (Standard Length/Low Roof)