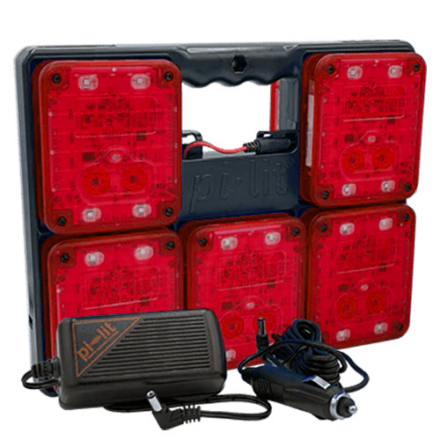 Smart Sequential Road Flares
Product Description
The Pi-Lit 'smart flare' incorporates… an innovative radio-linked network to automatically sequence the flash. Approaching drivers see a sequentially-lit string of flares much like a runway landing strip that guides traffic around the incident or work zone. They are easy to deploy and provide advanced traffic guidance and safety.
Download Product Brochure
Gallery
Product Features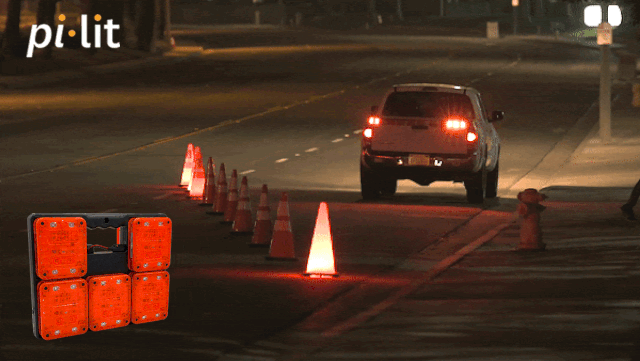 Designed, Engineered, and Assembled in the U.S.A.
Road equipment needs to be built to last. Our patented rectangular design maximizes battery volume while minimizing height. Tire impact is lessened. Manufactured and designed in our facility in California, the smart flare has an anticipated life span of 5+ years. With 2-year warranty and 24/7 support, the pi-lit team has your back.
A confused or distracted driver is a recipe for disaster. Provide drivers with a runway like approach light that can be seen farther in advance and distinguishable from the other vehicle light bars. There's a reason why a sequential landing zone beacon system ("rabbit") is used on the runway threshold.

Sequential Flashing Patterns – Advanced warning through guidance
Tilt Sensor automatically – selects best light source
Rapid Deployment System – automatically turns on/syncs flare
Make cones an active warning – Brightly illuminates a traffic cone
Reverse flash direction – Deploy in the reverse order
Safety Colours – Available in Red, Blue, Amber, Green and Yellow.
Crush Proof (Independent lab 30,000 lbs. crush strength)
IP65 rated – rugged and can withstand 30,000 lbs static load
2.4 Ghz radio-communication – (FCC compliant)
50+ feet (15 meters) range on ground – (330 meters on top of cone)
3,000+ feet (1,000 meter) visibility with 360-degree horizontal viewing angle and 180-degree vertical projection