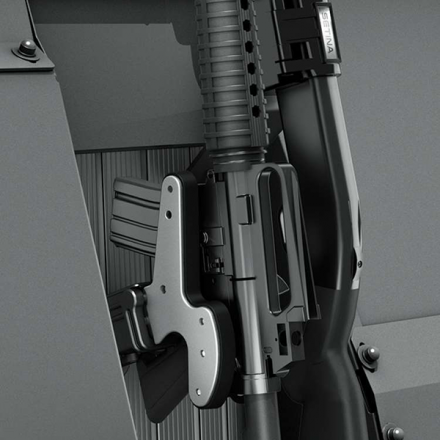 The World's First True Tactical Firearms Mount for Law Enforcement
Product Description
BLAC-RAC's design is the most versatile, compact firearms retention system available. Multiple firearms, multiple locations, multi-purpose. The BLAC-RAC is specifically designed to allow the user to mount firearms with wider receivers. In conjunction with our proprietary receiver width adjustment, the trigger post adapter ensures that the trigger post is extended as the receiver width increases.
Gallery
Product Features
The modular "T-Rail" technology allows the firearms systems to be easily converted from partition mount to a stand-alone mount by simply adding a base. "T-Rail" technology also provides maximum adjustability for multiple firearms and flexibility to accommodate multiple gunlock heads.
Blac-Rac Features
Available in Electronic or Manual models.
Microprocessor technology eliminates the problem of solenoid burn-out.
Electronic model with delay timer.
Cold Wire technology prevents hot wiring.
Standard black powder coated steel or stainless steel marine models.
Accommodates all firearms platforms.
Optics friendly, and will not interfere with scopes, optics, lights, or lasers.
Handles 30 round magazine when firearm is mounted.
360 degree swivel and 45 degree offset positioning.
Receiver adjustments allows for slim and wide receiver firearms.
Has the smallest mounting footprint of any firearm mount on the market.
Absorbs shock and vibration, eliminates rattling.
Available in double or single vertical partition mount, stand alone, partition mount, trunk mount, armory, watercraft and aircraft mount.
Blac-Rac Lock Specifics
Single Point Mounting Base
Retractable Grip Plate (for width adjustment)
Over the Center Clamp Action
Durable Glass filled Nylon Handle
Integral Lock Override
Slam Latch
Vertical Motion Handle
ISP (Internal Power Supply)
Eccentric Pistol Grip Rest
Extended Trigger Post Adapter
Swivel Pivot Rubber Pad