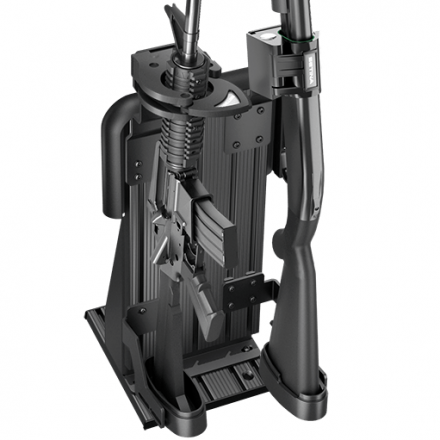 Double Firearms Mounting Systems
Product Description
Setina's "T-Rail" Firearms Mounting Systems provide quick, easy access to your firearms or less than lethal guns. Our Advanced Modular Design accommodates most Firearms, Scopes and Accessories, and allows our Firearms Mounting Systems to be easily converted from a Partition Mounting System to a Stand Alone Mounting System by simply adding a Stand Alone Base.
Gallery
Product Features
Partition Mount or Freestanding
Our Double T-Rail Weapon Systems provide maximum adjustability for multiple weapons and flexibility to accommodate multiple lock heads. Available for Partition Mounting and Freestanding Mounts, with the options of Small, Large, Universal, and Blac-Rac Lock configurations. Fits XL, Recessed Panel and Flat Panel Partitions.
The Space-Saver mounting system is recessed between the front seats, allowing extra space and accessibility.
Setina's Double T-Rail is strategically designed for optimal ease of access on partition and freestanding mounts. No reaching, straining, or fumbling to unlock or access your firearms. Situated perfectly in your center console.
Setina's T-Rail Technology allows for multiple firearm and lock configurations. Compatible with every Setina lock option.
High Strength Extruded Aluminum construction. Double T-Rail slide tracks for two sets of locks and firearms.
Freestanding Base or Partition Mounting
Setina's Double T-Rail systems can be used as a partition mount or on a Freestanding Base (sold separately). All Setina lock options are compatible with both of these Double T-Rail mounting styles.