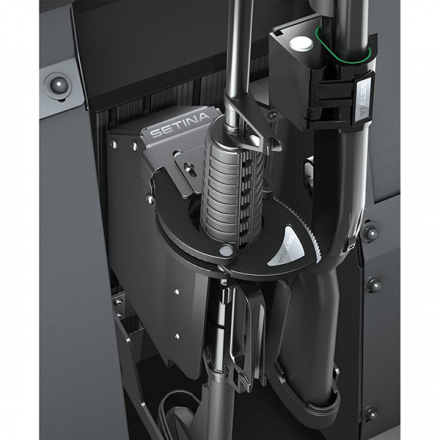 VaultLock Mount - Shroud and Lock Design
Product Description
The Setina VaultLock provides maximum confidence and security to your Fleet with a fully enclosed, one-piece shroud and lock design. With its tamper proof security fasteners and protective shroud, the VaultLock is one of the most professionally guarded weapon mounts on the market. The shroud ensures your firearm's take down pins, magazine and trigger are completely inaccessible, keeping both you and your weapon secure. The VaultLock is a flexible and versatile design, and is compatible with almost any of your personal firearm accessories.
Product Features
Enclosed, one-piece, shroud and lock design.
Provides added protection to critical firearms components.
Prevents firearm's disassembly by making take down pins, magazine & trigger inaccessible.
Secured with Tamper Proof Security Fasteners.
Rounded "Anti-Scuff" strips for easy Firearm Removal and Insertion.
Adaptor plate for Weapon flexibility.
Fits most configurations of AR-15's, and M4's with collapsible stocks & rails.
Compatible with firearm accessories
Provides Quick, Easy Firearms access
Compatible with any Setina Dual or Single T-Rail Firearm Mounting System.
Heavy Duty, Light-weight aircraft grade aluminum construction.