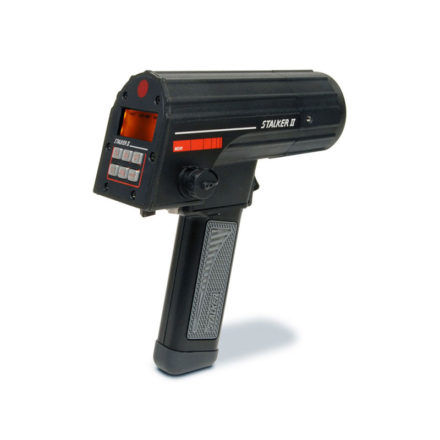 Direction Sensing Handheld Radar
Product Description
The range and performance of a vehicle-mounted radar in a versatile, hand-held package. Plus, Stalker's patented direction-sensing technology.
Available in 2 models:
Stalker II MDR – Moving Directional Radar
Stalker II SDR – Stationary Directional Radar
Download Product Brochure
Gallery
Product Features
Directional Sensing Technology
Very high performance design using DSP technology
Faster speed tracking
3 window display
Track-thru lock
Backlit LCD for nighttime use
Advanced digital signal processing (DSP)
New high capacity battery handle
Cordless operation available
Remote control option
Detachable handle design
Touch panel keyboard
Rugged die-cast metal construction
Moving & stationary versions
2-Year full warranty12 or 24 VDC versions available
Five year warranty
The Stalker II brings patented direction-sensing technology to a hand-held.
The range and performance of a vehicle-mounted radar in a versatile, hand-held package. The Stalker II is easily mounted on any law enforcement vehicle – automobile, motorcycle, or watercraft – and is available in either moving / stationary or stationary-only versions as well as with either a cordless battery handle or a corded handle.
The Stalker II's direction sensing and moving mode capabilities allow it to go from hand-held to dash mount and back to hand-held without missing a step.
Its die-cast-metal case is smaller and lighter than most hand-helds, and the Stalker II is waterproof to a depth of 2 feet. That makes the Stalker II at home on the water as well as on the roadway.
Backlit Rear Display
The 3-window backlit display presents an intuitive user interface with clear messaging and control buttons. It features LCD display windows for Strongest Target, Faster Target, and Patrol Speed (in moving mode) with direction arrows that indicate the direction of travel for both the strongest and faster targets
By displaying both strongest and faster targets simultaneously, the Stalker II can monitor faster vehicles passing larger vehicles and display the speed of both targets simultaneously.
Full-Function Remote Control Adds to Stalker II Versatility
The Remote Control provides direct access to the operator settings that can also be accessed in the Operator Menu.
Quick lock and release battery handle design
The detachable handle system allows the operator to swap battery handles in seconds
Intelligent battery charging system
The battery handle charger operates using wither the 120 VAC wall adapter, or an optional 12 VDC cigarette plug cable.
Optional Accessories
Mounts
The Stalker II can be dash mounted (with or without handle) in the police vehicle or can be mounted on motorcycle handle bars.
Holster
Allows the Stalker II to be safely and securely carried on motorcycle patrol.
Rear antenna connection
A second, optional rear-facing antenna can be connected to the Stalker II MDR to yield the performance of a two-antenna dash-mounted unit.
Stalker II SDR Features
Removable rechargeable Battery Handle
Waterproof down to 2 ft of water depth
Rugged but lightweight Die-Cast metal body
Stopwatch mode
Directional sensing
Strongest and Faster display in all target modes
Faster Target Lock in all target modes
Software upgradeable
Video interface connector
Battery Handle Charger accessory
Cordless Remote Control (optional)
Dash Mount operation (optional)
Stalker II MDR Features
Added the following:
Moving mode
Automatic Same Lane mode (no slower key)
VSS operation
VSS Moving/Stationary modes auto switching
Cordless Remote Control (standard)
Dash Mount operation (standard)