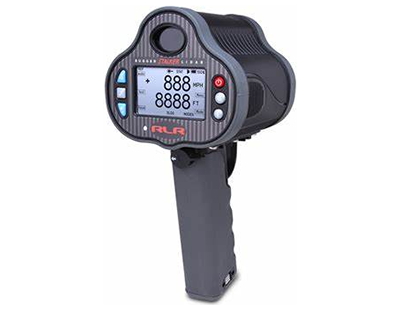 Performs in the harshest conditions, easy to use in ANY condition.
Product Description
When working traffic in the real world, the equipment needs to be easy to set up, with large easy-to-read displays, and no-nonsense durability. That's what you'll find with the new Stalker Lidar RLR.
Weighing in at a mere 2.3 lbs. (1.09 kg), even with the battery pack, the R-Series is lighter than any comparable hand-held device on the market.
The new pistol grip Li-Ion battery snaps instantly into place, and provides power for at least two shifts. Plus, these sturdy batteries will withstand more than 500 charging cycles. A model that accepts off-the-shelf AA batteries is also available.
With an average target acquisition time of 1/3 of a second or less, and a hand-held range in excess of 3,600 feet (over 9,000 feet on a tripod), it is hard to imagine a more effective speed enforcement tool.
Download Product Brochure
Gallery
Product Features
Stalker LIDAR RLR's C-Thru Technology enables the LIDAR to track targets despite the presence of trees, leaves, bushes, utility poles, and other obstructions between it and the target.
Using C-Thru Technology, the operator can take a position where previously – because of a fence, trees, signage, etc. – continuous tracking of a target was impossible.
School Zone / Construction Zone Mode
This allows the operator to easily define a specific such as a school zone or reduced speed construction zone. The unit will then only obtain speeds while the target vehicle is in that area.
Inclement Weather / Obstruction Mode
The Stalker RLR units have, as standard, a Inclement Weather/Obstruction Mode which allows the unit to work in rain, snow, blowing dust, fog, as well as through fences, tree branches, etc. This also increases the operating distance when using the X-Series LIDARs through the front windshield of the patrol car.
The RLR now have software that not only detects but ignores jamming pulses and continues to provide accurate speed tracking.
The Stalker RLR is available in two options, a rechargeable battery stick or 6 AA batteries.
Shoots Through Windshields
Calibration Expiration Notice
Data Logging
Capturing and logging speed and time data is as easy as releasing the trigger. Storing up to 3,000 data sets in non-volatile memory, the data is either captured automatically or only when accepted by the operator.
Easily set up. Taking readings of two vehicles inside a 3-second window calculates the time a following vehicle will take to reach the current position of the car in front.