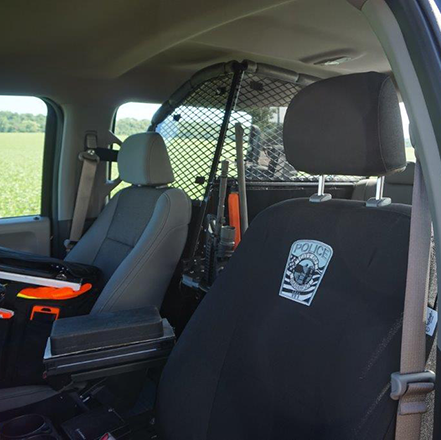 What makes TigerTough different than the cheap seat cover that you can grab off the shelf?
Product Description
Why exactly should you put seat covers in a cop car? It's not like you're a mechanic that's covered in grease or anything.
Well, there is a major reason and it is around your waist. Every Law Enforcement Officer out there knows what a duty belt will do to the seats in your car. It's not pretty, it's expensive, and it's uncomfortable but what can you do about it?
Tactical seat covers are the answer.
Gallery
Product Features
TigerTough Tactical seat covers are designed specifically for law enforcement vehicles.  They fit tight, they don't move around, and they're airbag safe.  We use 1000 denier Cordura because it has a higher abrasion rating than Kevlar. If you need any assurance, all of our police car seat covers are backed with a two-year unconditional warranty. You've got enough on your plate, let us worry about the seats.
SEAT FEATURES
---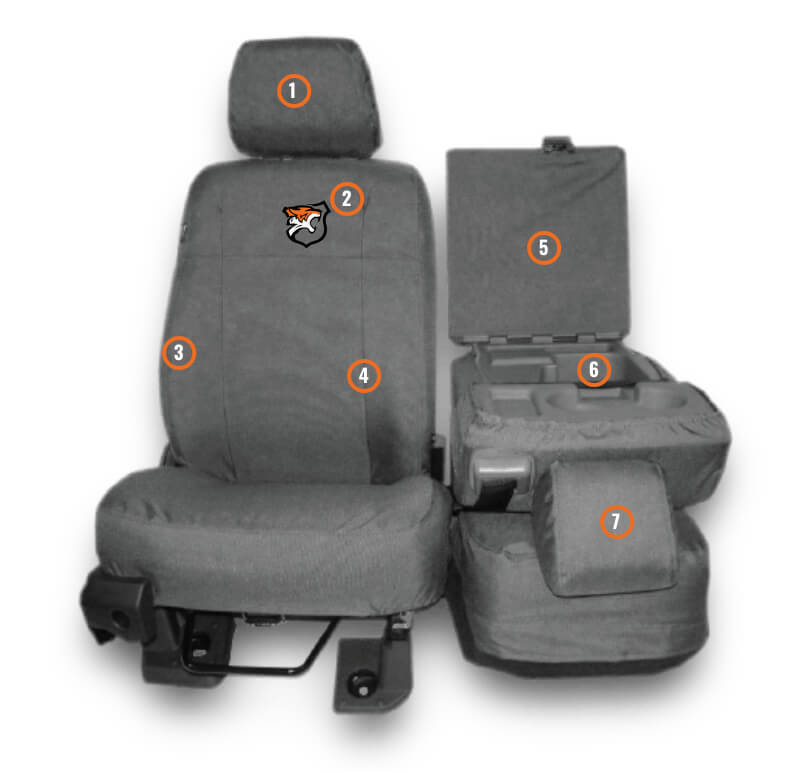 Independent Headrest

Optional Embroidery

Airbag Compatible

Double Stitched Seams

Almost Indestructable Material

Keep Your Factory Features

Factory Finish
THE IRONBAND
---
The Ironband is a reinforcement that we've developed for the lower 1/3 of the seat cover.  This is the section of the seat that takes the biggest beating from your duty belt, so we've beefed up the cover to provide extra protection in this area.  We've added extra reinforcement to the toughest seat cover out there.  You don't need to worry about torn seats anymore, we've got this.
PREVENTATIVE MAINTENACE
---
We're here to help you prevent your interiors from getting ruined, not just fix them after the fact (we can help with that, though).  By putting seat covers on your cars before they go into service, you can eliminate a problem that has been "normal wear and tear" for far less than what it's been costing you to fix it.
Besides that, your cars will be worth more when you get rid of them. When you're trading or selling your used cars, what do people think when they open the door? Do they think "Man, this thing looks brand new!" or more like "Whoever drove this thing was sure hard on equipment!" Whatever the person inspecting the vehicle thinks as their first impression is going to set the tone for the whole inspection and determine what they'll pay.
COST SAVINGS
---
Time is another area where you can make up a lot of ground. Rather than having a technician take a seat out of the car, take the seat to the upholstery shop, then put the seat back in after a few days, they can invest 15 or 20 minutes to install your seat covers when the car is new and not worry about it again until you're ready to sell it.  Even better, have your upfitter install the covers before you get the car.
IMAGE AND MORALE
---
We haven't even mentioned the fact that your officers are going to be happier driving a clean, intact car.
We're talking about giving you more money, better equipment, and happier drivers.  How does that sound?