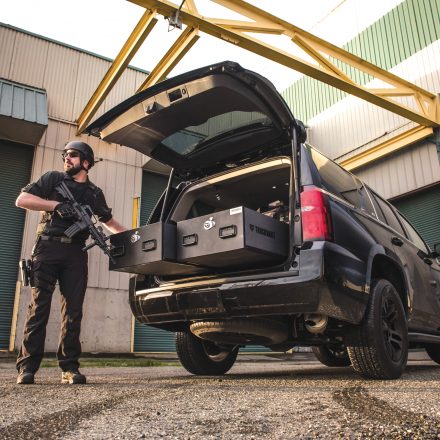 Secure storage for your SUV and Pickup.
Product Description
TruckVault® products for SUV's started as a customer suggestion years ago. Pick-ups were the mainstay of business for TruckVault® for some time until a tradeshow customer suggestion came along that we make products for SUVs. From there our Public Safety business took off and the rest as they say is history. Now our popular line of SUV products for Tahoes and Explorers are among our top sellers.
Download Product Brochure
Gallery
Product Features
READY WHEN YOU ARE
Regardless of your pick-up bed size and length we make a TruckVault® product that will enhance both your security and organizational needs. We have designed numerous models both for covered and uncovered pick-ups that fit and conform to your bed dimensions and are available in both standard and magnum height versions. Carpeted units are designed for pick-ups with toppers and feature heavy duty locks, full length drawers and a divider package that helps you organize your stored items efficiently. A top load capacity of 1,000 lbs. will ensure you will arrive safely with your cargo. You want custom features? We have them. Order yours in a variety of beautiful hardwood finishes and then deck it out with in-drawer lighting, tie down rails and top it off with an electronic key fob locking system for a sleek look and you have the ultimate in secure in-vehicle storage that your work or hunting buddies will be sure to be envious of.
THE ALL-WEATHER SERIES
For the ultimate in our pick-up line you will want to check out our The All-Weather Series TruckVault® that are designed for pick-ups without toppers and feature tough heat applied spray on armor coating and bulb sealed/compression locked drawers to keep dust, grit and water out. Add tie down rails to this unit, which boasts a top load capacity of 2,000 lbs., and you truly have an in-vehicle secure storage system to be reckoned with.
No matter your secure storage need for your pick-up, TruckVault® has an answer and our knowledgeable Reps stand by at the ready to make sure you get the supplied solution from our product.