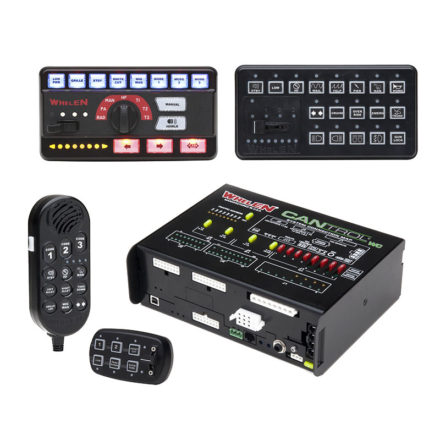 Light and Siren System for Total Vehicle Integration and Control
Product Description
Create dynamic unified warning by incorporating every light and siren on your cruiser into custom program configurations. Officers keep both hands on the wheel instead of trying to figure out which button to push!
Your warning system becomes your strongest ally for safety because you can pre-configure the proper response to any situation before it happens…before timing is critical …before an emergency or accident requires instantaneous judgment.
Vehicle integration provides added capability to your light and siren package such as: program and control all the lighting, traffic arrows and siren functions in your vehicle, flash pattern synchronization, canine alarm and temperature monitor control, radar and camera activation, door or trunk opening, window down, gun lock, ignition disable and much more. The abilities of Cantrol WC are limited only by your imagination…
Configuration is easy with a Windows® based computer program. USB port allows for easy program transfer from your computer to the amplifier/control module.
Download Product Brochure
Gallery
Product Features
Full function amplifier/control module
Program and control all the lighting, traffic arrows and siren functions in your vehicle
All outputs have both short circuit/over-current protection
WeCan® lightbar plugs directly into the amplifier/control module and is programmed by the CanTrol software
Inputs for three different style control heads (ordered separately)
Three analog inputs for temperature sensor, ambient lighting, etc.
Integrated battery voltage monitor
Supports one or two 100 watt speakers
Programmable for Hands-Free operation
161 synchronizable, variable-phase, programmable flash patterns
Two optional expansion modules allows for 16 additional 2-1/2 amp outputs per module, plugs directly into the WeCan port, for a total of 75 outputs
Over 45 programmable siren tones
Includes PA and radio repeat functions
Built-in system shut-down allows system to operate for up to four hours after vehicle is turned off
Redesigned housing with integrated diagnostic LEDs for quick troubleshooting
Optimized software
Easy to configure using Windows application program
Pre-configured programs may be modified and stored for ease of service. Easily extract your custom program and transfer to other vehicles
USB port in the amplifier/control module allows easy access for programming
Power and input/output cabling with connectors, standard
Each output has diagnostic indicator
Eight inputs for customer supplied external switches; four for use on positive or ground switching, and four for use on positive switching only
Thirty-two 2-1/2 amp outputs
Three low current 1/4 amp outputs
Eight programmable 10 amp outputs
Three Diagnostix™ system indicators
Traffic Advisor™ module for traffic arrows that utilize a 9C cable eliminating the use of a traffic arrow controller
WeCan lightbar Traffic Advisor can be synchronized with remote Traffic Advisors that utilize a 9C cable
Meets or exceeds all applicable SAE, California Title XIII and NFPA requirements with various Whelen speakers, control heads and lightheads
Five-year warranty