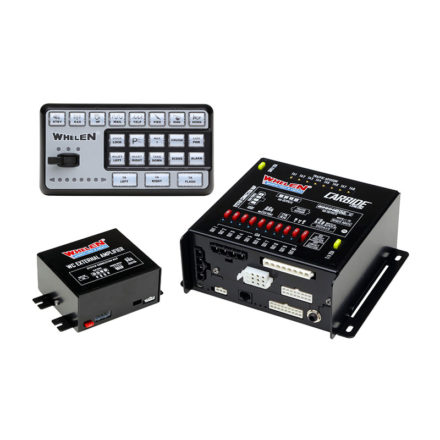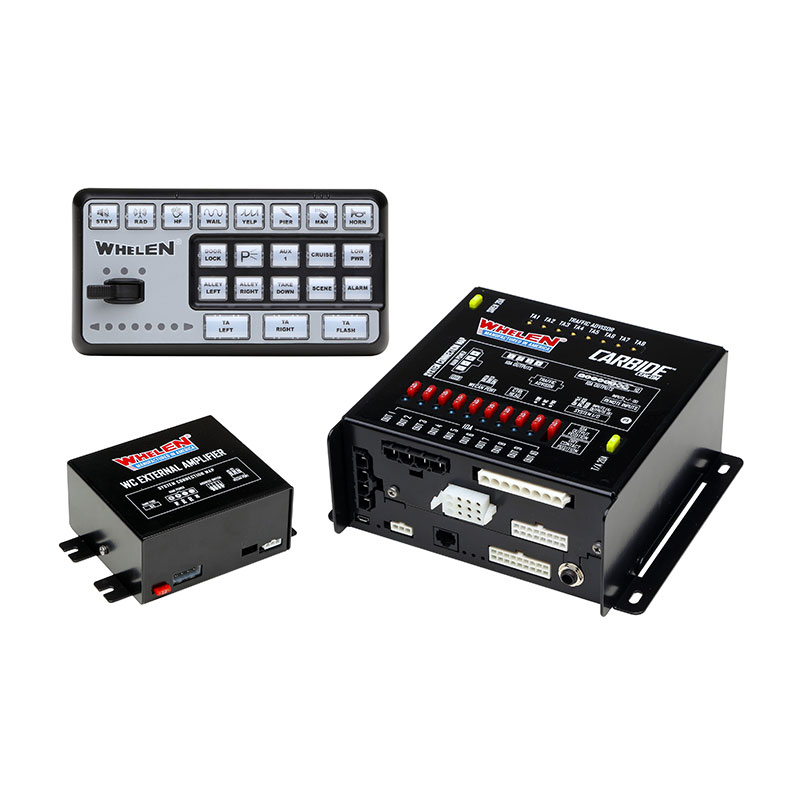 Intelligent Control System
Product Description
Engineered to maintain situational awareness of the officer, Whelen's CenCom Carbide™ houses numerous innovative technologies that deliver highly effective visual and auditory warning.
Designed for simplistic, hands free usage, Carbide allows officers to easily adapt with Situation Based Integration. This feature allows for scene specific functions using various vehicle components, such as the horn or brakes. Priorities can now be fully configured and controlled.
Carbide provides the capability to sync all lights together, including a Traffic Advisor™ and the new rear WeCan® Inner Edge® RTX.
Easily reproducible from vehicle to vehicle, Carbide installs effortlessly with little wiring intricacy. Optional expansion modules and WeCan dual siren amplifier are available to further customize functions.
Download Product Brochure
Gallery
Product Features
Control warning lights, siren, and Traffic Advisor™ functions from a single keypad
Newly designed control head with 21 buttons and slide switch
Newly designed software allows for easy program configuration via USB 2.0
Fully Supports all WeCan® Series products
12 positive or negative activated inputs
Supports up to 2 of the following: front WeCan Inner Edge®, new rear WeCan Inner Edge, or optional remote 16 output modules
Control Head
Ergonomically designed for situational awareness of the officer, Carbide™ features a new control head with 21 buttons and a slide switch. Completely configurable by the user, the control head is designed with tick marks, a raised surface, and a recessed center for ease of use, allowing officers to focus on the road.
Integrated Load Manager
Carbide™ reduces the chance of a drained battery by shutting off outputs as vehicle battery voltage declines.
Integrated Auto-Off Timer
Keep Carbide functioning even if the ignition is turned off.
Situation Based Integration
Carbide™ features improved Situation Based Integration, a technology first introduced in 1993 with Whelen's B-Link™ System.
Priorities can now be fully configured and controlled
Carbide controls scene-specific lighting for safety and efficiency using any of the integrated 12 programmable inputs, 18 programmable outputs, and optional expansion modules
Turn lights/buttons on or off when the door opens, vehicle transmission is shifted, brakes are pressed, or the sun goes down.
Automatically turn on flood lighting when takedowns are activated
Change warning patterns with siren tones
Activate a burst of light when the air horn is pressed
Light up the rear of the vehicle when brakes are pressed
Activate the alarm feature to create a disorienting visual and audible display to aid in officer safety