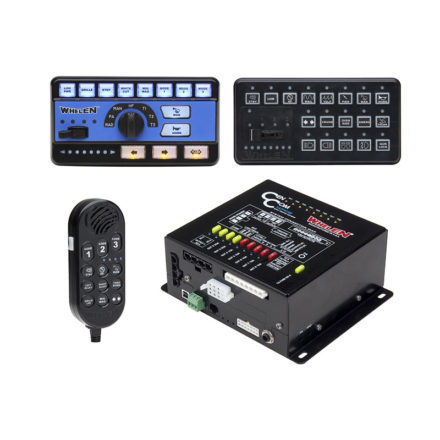 Siren and Light Control System
Product Description
CenCom Sapphire delivers what you've been asking for in a sleek, new, tougher, more advanced design.
CenCom Sapphire adds an integrated WeCan® serial port for connecting your Whelen WeCan series lightbar directly to the Amplifier Control Module. No more bulky wires and secondary boxes to contend with. Just plug in and go!
Indicator LEDs have been added to each output creating a simple, way to troubleshoot shorted or broken connections in your vehicle's wiring.
Fuses and connections are easily accessible without having to use any tools or remove any covers. All high current outputs are fused for your convenience.
New, heavy-duty power and output connectors can handle rough treatment without damage or accidental disengagement and are easily accessible on the front face of the Amplifier Control Module.
Configuration programming is easier than ever with newly redesigned CenCom Sapphire software. CenCom Sapphire retains the highly regarded simplicity of our previous CenCom software, with new features and added flexibility; including the ability to configure your Whelen WeCan® lightbar!
Download Product Brochure
Gallery
Product Features
Control your warning lights, siren and Traffic Advisor™ functions from a single keypad.
Many models to choose from for compatibility with Traffic Advisors.
CCSRN: operates Whelen 2-wire Traffic Advisors that do not require external controls.
CCSRNT: operates Traffic Advisors that do require external controls.
Solid-state outputs: one 40-Amp, two 20-Amp, four 10-Amp, and four 250-milliAmp.
Relay output: one 10-Amp Dry Contact Relay.
Lightbar: 1 Phoenix style connector for a WeCan Series lightbar.
Integrated Traffic Advisor connection on CCRSNT Series.
Four positive or ground activated inputs, including a horn ring input.
NEW models include input expansion module for additional 8 positive or negative inputs (12 total).
Easy to configure using the included CenCom Sapphire Windows application.
Configured programs may be extracted, modified and stored for ease of service and reuse.
A USB port on the Amplifier Control Module provides easy access for programming. The control head need not be connected for programming.
Each button is individually customizable for numerous button types (Press on/Press off, momentary, etc.).
Control head backlighting can be easily turned on or off for high visibility on patrol or blacked out for discrete night operations.
Brightly backlit push-buttons include standard function labels to choose from.
Rugged, aluminum-housed Amplifier Control Module is field-serviceable with easy access to fuses and connections.
Operates one or two 100-Watt siren speakers.
PA microphone with plug-in connector and 20' microphone cable are included (except with hand held models).
Includes all pigtails and connectors.
Rugged CAT-5 cable connects the control head to the Amplifier Control Module.
Five-year warranty.
Meets or exceeds all applicable SAE, California Title XIII and NFPA requirements with various Whelen speakers.